Thursday, June 22nd, 2017 at 12:28 pm
If you can't stand the HEAT – Get out of the….
Although I'd like to say for us MSers that taking care of any heat issues we have during the summer months is as easy as staying out of the kitchen, that, of course, is not the issue. Many people talk about getting out there in the sun and heat to get happily baked to a crisp during the summer months. Us MSers, however, have a totally different position on the heat! In fact, anyone with Multiple Sclerosis that hears that single word "HEAT" could become anxious due to challenges the HEAT poses to us.
Yes, preparing for the HEAT is serious business!
Truth be told, many of us begin in the winter months preparing for the summer! Yes, you read that correctly, in the dead of winter, we can start preparing for the upcoming summer. We focus on making sure the air conditioner is in tip top shape, window treatments give maximum protection from the elements, we get cooling vests, head protection, travel to cooler climates and anything else we can do to make sure we are staying cool.
How do we deal with MS during the summer months?
I was always mindful of the heat. My MS Story may not be different than yours as heat intolerance was always the one thing that seemed to get me (before I became symptom free). My head use to feel like it was baking…literally from the inside out, I would feel tingling, even some numbness. So I understand first hand why this is one topic that we need to not only prepare for, but share the info so others do not have to suffer!
Things you may experience when you are suffering from Heat Exposure:
1 – Dizziness
2 – Immediate onset of fatigue – (Almost as though somebody burst your energy bubble)
3 – Blurred Vision
4 – Shakiness or Tremors
5 – Numbness and tingling in limbs
6 – Decrease in your cognitive function (You knew you were smarter or more clear headed before you got into that sun, sauna, or hot shower, right?)
An interesting fact about the heat and our Multiple Sclerosis is that yes, it can cause us to have symptoms that either appear or start to get worse during heat exposure. It does not cause any long-term inflammation or lesions which is great news, but we still need to think about ways to stay cool and get over the immediate affects of the heat. And for most people, once they are removed from the heat their body will return to how they felt before going out in the elements.
Some "COOL" ways to beat the HEAT:  
1 – Air conditioning.
2 – Cooling Products – You can Google it, there are dozens to choose from. There are also things you can do – soak a sponge in water, freeze and then put in a freezer bag, this stays cool for a long time and is very inexpensive. Get a cooling towel or cooling wrist bands. Contact the MS Society they have cooling programs in place too.
3 – Get into a cool bath/shower, swimming pool, or if you're lucky enough to be by a lake or ocean – jump on in.
4 – Misting Fans.
5 – Stay hydrated by drinking cool beverages – obviously water is the best choice. This will go to your core and immediately go to work on lowering your overall temperature.
6 – Keep covered when in the sun. By wearing a hat during the summer (before I was symptom-free) it gave me more time to be outside before the heat would affect me.
7 – Eat foods that are cool – fruits, veggies, salads. Healthy icees made from real food, not stuff packed with sugar (that can also cause fatigue).
8 – If exercising in the summer, workout later in the evening or earlier in the morning – making sure to stay hydrated.
I would like to say it's as easy as thinking cool thoughts, but the best thing you can do to beat the heat is by staying prepared at all times and really listen to your body!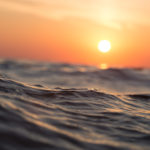 Now, I do recommend that we get outside in the sun each morning, if possible, for 10-20 minutes to get the Vitamin D benefits from the sun which is so important to safely and effectively raise or Vitamin D levels in our bodies which is necessary to stop inflammation, build our immunity, fight flare-ups and it can even keep us from having further issues with our MS.
If you'd like to learn ways to deal with your MS in more natural and holistic ways, check out my book "Waking Up From MS – My Journey to Health, Healing, and Living Symptom-Free." It is a roadmap to all the things I've done to become healthy and symptom free on my almost 30-year journey living with MS.
The good news is you can still have an enjoyable summer, even with the HEAT, if you stay prepared!
To Our Health!
Kellie Alderton
If you want to learn more about healthy living and green technologies, and ways to lessen toxins, check out my products page at www.myvollara.com/kga
You can also follow me on my FB page Waking Up From MS where I share insights and information for everyone dealing with MS.