Why you should start Dry Body Brushing now!
Saturday, February 18th, 2017 at 6:14 pm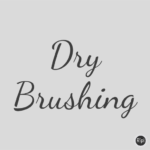 Dry Body Brushing has many health benefits.
While living with Multiple Sclerosis, it's important to have a daily focus on lessening inflammation in our bodies. I highly recommend becoming your best health advocate and learn everything possible about your MS. Understand the need to thoroughly investigate many different avenues for your own healing. In my own journey of living with MS I've found many different alternative and holistic therapies that aided in my health and healing. My mantra is: "A Healthy Immune System equals A Healthy Body" and dry brushing is a way to help your immune system.
Dry Brushing is AMAZING! I started dry brushing a few years ago while investigating ways to lessen inflammation in my body. It is one of the things I thoroughly enjoy doing, it's simple and easy to do and you will notice results right away. The big joke in our family is that I say once we're done dry brushing all of the cells in our body are singing! Ha! Ha! I know that's a little corny, but it's true! You will feel invigorated and definitely energized. It's a great way to start the day.
Dry Brushing Benefits:
Stimulates lymphatic system
Eliminates toxins and bacteria
Exfoliates skin
Unclogs pores
Relieves Stress
Increases circulation
Younger looking skin
Improves digestion and kidney function
Reduces cellulite
Reduces muscle tension
Invigorates and energizes
Strengthens Immune System
Choosing a Brush:
I am tall so I prefer to use a long handle brush so I can easily reach my back. You may prefer the smaller, hand-held brushes, for some it's easier to control.  It's best to use a brush with bristles made of natural materials that should be stiff but pliable.
How to Dry Brush:
I recommend dry brushing daily, in the morning, since this will definitely energize you! (Jump in the tub or shower – to keep the sloughed off skin cells contained). I also noticed, even more, benefit doing it before my workout.
Never shower before dry brushing, make sure your skin is completely dry.
Always begin with upward movements towards the heart which is best for your lymphatic system and for circulation. Begin brushing at the soles of the feet, next to the ankles, calves, legs, stomach, arms, (be careful around breast tissue) continue up to the neck and then focus on the back. Always avoid the face and any areas that may be sensitive or have skin irritations.
Work in small, gentle, circular motions (always going up towards the heart) – brush firmly, but don't scrape or scrub your skin.
Follow it up with a shower and you can even use a natural moisturizing oil or coconut oil (avoid baby oil).
I hope you can add Dry Brushing to your healthy lifestyle. You can also learn more tips and techniques about how I beat MS and now live symptom free in my new book – "Waking Up From MS – My Journey to Health, Healing, and Living Symptom Free." I hope it can be a stepping stone of new ideas for you on your own MS journey.
To our Health!
Kellie Alderton
If you want to learn more about healthy living and green technologies, check out my products page at www.myvollara.com/kga
You can also follow me on twitter @kelliealderton or my FB page Waking Up From MS where I share insights and information for everyone dealing with MS.
Tagged with: Alternative therapies • Dry Brushing • healthy living • Healthy Living with MS • How to beat Multiple Sclerosis • MS • Multiple Sclerosis
Filed under: M.S. Wellness & Healthy Living
Like this post? Subscribe to my RSS feed and get loads more!